Published in Oil Industry News on Friday, 8 July 2016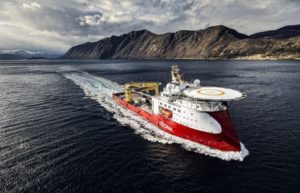 GC Rieber Shipping has secured a time charter agreement with Technip Angola for the SURF vessel Polar Onyx.
The vessel will conduct SURF and construction duties in Angola. The charter starts prompt and lasts for up to two months.
GC Rieber noted that the charter is in direct continuation from the previous charter in UK sector where the vessel worked for the marine solutions and specialist engineering service provider James Fisher Marine Services.
"This is an interesting contract for us where the operational capabilities of the vessel and her equipment get fully utilized. Technip's strong presence in West Africa makes the contract strategically important to us, and we look forward to cooperating with them also in this region," says CEO Irene Waage Basili.
The SX121 designed offshore construction vessel Polar Onyx was delivered in March 2014 from Ulstein Verft. The vessel is designed to operate in the SURF/Construction/IRM markets, with high capacity for flexible pipe loads.
Source: www.offshoreenergytoday.com